Gene Stratton-Porter Chapter




Izaak Walton League of America
Indiana Division

P.O. Box 140
Huntertown, IN 46748
Named for Hoosier novelist and pioneering nature photographer Gene Stratton-Porter (1863-1924), an early League member, our chapter serves a statewide membership. We have no chapter house. Our conservation efforts are focused on advocacy and education for a better environment in Indiana, especially in the area of water quality.
Help Save Indiana's Endangered Wildlife!
Look for the eagle on your Indiana tax form!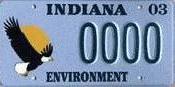 Buy an Environmental License Plate and save habitat for wildlife!
Advertising that appears below is not necessarily endorsed by the Gene Stratton-Porter Chapter or the IWLA.